Seoul, RO Korea— Building on the successful completion of a regional Transboundary Diagnostic Analysis (TDA) and a regional Strategic Action Programme (SAP) to address the transboundary environmental problems in the Yellow Sea, the Yellow Sea Large Marine Ecosystem (YSLME) Project enters its second phase of implementation.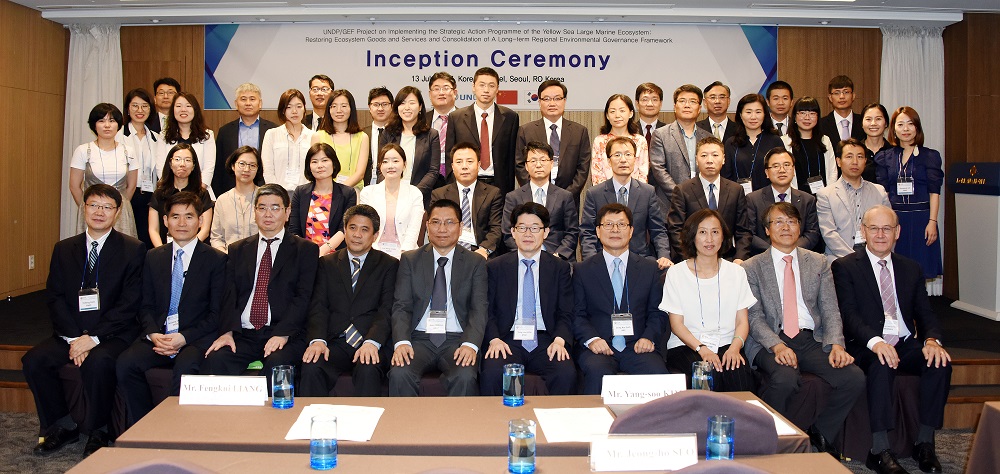 On July 11-12, 2017, the 1st Meeting of the Management, Science, and Technical Panel (MSTP) and an Inception Ceremony of the GEF/UNDP/YSLME Phase II were conducted. Representatives from national and local governments of RO Korea and China, as well as other organizations including UNDP, UNOPS, NOWPAP, and PEMSEA were invited as participants. Phase II aims to implement the SAP which identified 11 regional targets aimed to restore and maintain the ecosystems capacity in the Yellow Sea.
Recognizing the importance of the YSLME project to the East Asian Seas region and the need for continuing collaboration and cooperation, PEMSEA represented by its Executive Director, Mr. Adrian Ross, addressed the representatives from the two participating countries and international organizations at the Inception Ceremony. Mr. Ross emphasized the value of continued partnership between PEMSEA and YSLME particularly in addressing sustainable development of coasts and oceans in the region in support of UN Sustainable Development Goal (SDG) 14 globally.
During the meeting discussions on strengthening the Yellow Sea Partnership, forging of a new partnership agreement between YSLME and PEMSEA was confirmed. In particular, YSLME expressed interest to contribute in the development of the regional State of Oceans and Coasts Report which is being coordinated by PEMSEA, as well as to play an active role in the planning and convening of possible forum at the East Asian Seas Congress 2018. 
The 1st MSTP Meeting achieved its goals and resulted to the following key outputs: 
a) Endorsement of the revised TORs of the Yellow Sea Interim Commission Council (ICC) and its Subsidiary Bodies, Rules of Procedure for the ICC, and the terms of reference of Secretariat staff; 
b) Nomination of National Project Coordinator (NPC), members of the Inter-Ministerial Coordinating Committee (IMCC), members to the six Regional Working Groups (RWGs) and National Working Groups (NWGs) by RO Korea, and the nomination of NPC, members of IMCC and Chairs of NWGs by PR China. The six regional working groups are responsible for coordinating actions at the regional level focusing on: fish stocks; sustainable mariculture; habitat conservation; pollution reduction; monitoring/assessment; and sustainability (socioeconomics and governance); and
c) Adoption of guidelines for strengthening the Yellow Sea Partnership.